Ageless Honorees - 2014

Ann Bannes
Ann Bannes, 75, has been one of Missouri's leading advocates for seniors for more than 40 years. Having recently retired as the head of Senior Solutions, St. Andrew's and St. Luke's Hospital's home health organization, Ann's distinguished career has been highlighted by the creation of innovative and compassionate programs designed to help seniors lead more productive and independent lives. Over the years, her efforts were instrumental in the development of the St. Andrew's Friends organization, the St. Andrew's Charitable Foundation and the Ageless Remarkable St. Louis event. Since retiring from St. Andrew's, Ann has embarked on a new career, helping to manage a family-owned pet boutique.

Donald Biemdiek
Don Beimdiek, 85, spent 50 years as a real estate attorney with Armstrong Teasdale, where he worked on a variety of notable projects, including the redevelopment of Union Station and the preservation of the Wainwright Building. Today, he lends his legal expertise to the Catholic Legal Assistance Ministry (CLAM). Serving as a volunteer attorney for CLAM, he spends 50 hours a week representing impoverished families in landlord/tenant, mortgage foreclosure and real estate disputes. Despite his busy schedule, he also works to stay physically active by walking, biking and playing tennis.

Pat Britt
Pat Britt, 77, is a talented athlete who has competed in 40 marathons, including two ultra-marathons. He's also qualified for the Boston Marathon six times and participated in 14 different events at the 2014 Senior Olympics. When he's not training for marathons, working out or playing golf, Pat can be found volunteering. Whether he's playing wheelchair basketball with kids at Shriners Hospital, taking children from Our Little Haven to the park, helping families in crisis at Ronald McDonald House or working to fulfill the wishes of sick kids through The Dream Factory, this active senior is committed to bringing smiles to young faces and providing support to families and children in crisis.

Mattie Davis
Mattie Davis, 80, has devoted her life to encouraging others to accept the word of God and live their lives according to his teachings. Today, she continues to lead by example by visiting the sick in a local nursing home each week, organizing a food pantry and mailing spiritual messages to individuals who are unable to attend Sunday church services. Mattie also performs outreach work with the Kinloch Church of God as part of her ongoing mission to bring others closer to God.

Elsie Freeman
Elsie Freeman, 78, currently serves as the program coordinator for the Meals on Wheels program of the St. Louis Area Agency on Aging. In her role, she directs the work of eight drivers who deliver an average of 300 meals to North St. Louis senior each weekday. When she's not busy with Meals on Wheels, Elsie furthers her commitment to helping others by working with the homeless as a member of the Hospitality Committee at Friendly Temple Missionary Baptist Church.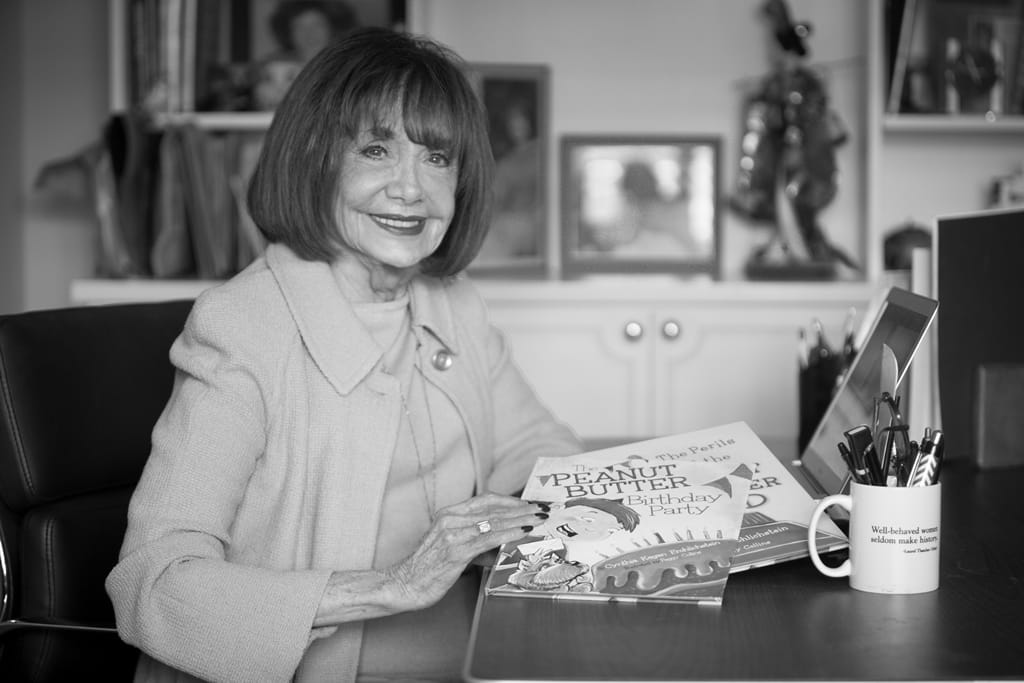 Cynthia Frohlichstein
Cynthia Frohlichstein, 85, is a talented journalist who has written everything from fashion advice to tips on auto care, award-winning travel articles and personality profiles. Today, she is focused on children's books. Having earned accolades for her first work, entitled The Perils of the Peanut Butter Kid, she is now working on a sequel called The Peanut Butter Birthday Party. As a cancer survivor, Cynthia also devotes her time and talents to supporting the St. Louis Breast Cancer Coalition and Maryville University's "Kids Rock Cancer" organization, among many others.

Judith Garfinkle
Judith Garfinkel, 84, is a former nursery school teacher and children's theater director who has served as a docent at the St. Louis Art Museum for the past 50 years. Judith continues to conduct more than 50 tours each school year and conducting 25 enrichment lectures annually. As the Art Museum's longest tenured docent, she also mentors new volunteers and helps design new programs. When she's not busy at the museum, Judith can be found at home, knitting purses that she donates to local charities to help them raise funds.
Paul Greenlaw
Paul Greenlaw, 90, is a World War II veteran and retired salesman who now volunteers with Meals on Wheels, delivering warm meals and companionship to homebound seniors each Monday. Each Friday, Paul also puts his musical skills on display, playing the piano at Manor Grove long-term care facility in Kirkwood, where his repertoire of more than 500 songs gets the toes of senior residents tapping.

Anna Harris
Anna Harris, 75, is a dedicated volunteer and philanthropist, whose efforts have benefited a range of local non-profit organizations, including the American Cancer Society, Children's Home Society, the Arthritis Foundation and the Goldfarb School of Nursing. Also a talented amateur photographer, Anna was instrumental in helping to relocate the International Photography Hall of Fame to St. Louis.

Harry Hope
Harry Hope, 82, has dedicated his golden years to spreading the word about the tremendous sacrifices made by Korean War Veterans. A Korean War Vet himself who faced unspeakable challenges during that war that left him scarred, frost bitten and lucky to be alive, Harry now serves as the president of the Gateway Chapter of The Chosin Few, a Korean War Veterans association. He also helps lead the Honor Flight Program, which transports veterans to Washington, D.C., each month to visit the war memorials. Through his efforts, he works tirelessly to honor those who fought to keep our nation free.

Larry Lemke
Larry Lemke, 76, is a retired member of the McDonnell Douglas corporate management team who now devotes his time to religious, humanitarian and social issues. As the chairmen of the Board with Wings of Hope, the active pilot flies nationwide charity missions to bring sick children to medical facilities and connect the poor and underserved with medical care and other resources. His additional volunteer efforts include time as a board member for Lutheran Children and Family Services. Larry is also a lay minister who can often be found preaching at Lutheran churches in the area.

Joan Quicksilver
Joan Quicksilver, xx, is a former public relations professional with a career that spanned six decades and featured a prestigious client list of banks, radio and TV stations, music festivals, hotels and restaurants and the Ringling Brothers Circus. A cancer survivor, much of her time is now spent helping to plan fundraising events for cancer research and cancer support groups such as the Cancer Support Community and Gateway to Hope – Breast Cancer Lifeline.

Darlene Roland
Darlene Roland, 77, is a dedicated volunteer who's efforts have benefited a range of St. Louis organizations including the Barnes Hospital Auxiliary, the St. Louis Symphony Volunteer Association, the Leukemia-Lymphoma Society, the National Society of Arts and Letter and the Friends of St. Andrew's, just to name a few. With a lifetime of volunteer service under her belt, Darlene's natural leadership skills have led her to be named president of many of the organizations she works with, and she embraces the role with passion and tireless energy.

Mendel Rosenberg
Mendel Rosenberg, 85, is a Nazi concentration camp survivor who now works tirelessly to share his story with individuals across the St. Louis area. Having endured years of torture, starvation and deprivation as a young boy in war-torn Europe, Mendel now makes 80 to 100 presentations annually at the St. Louis Holocaust Museum and area schools, sharing a tale that is both horrifying and inspiring, with the goal of making sure no one forgets the Holocaust.

Joseph Shaughnessy
Joe Shaughnessy, 78, is the chairman of St. Louis-based BSI Constructors. In his role at the helm of the company, he has overseen the construction or renovation of numerous St. Louis landmarks during the company's 42-year history, including the Old Post Office, the Chase Park Plaza, the Wells Fargo headquarters and Citygarden. With his sons now handling BSI's day-to-day operations, Joe continues to work four to five hours a day, while also providing philanthropic support to worthy organizations like Catholic Charities and the region's many cultural institutions.

Anita Siegmund
Anita Siegmund, 85, is one of Brightside St. Louis' most dedicated and generous volunteers. As she works to beautify the region, she can be seen around town planting daffodils along highways, in city parks and around St. Louis City Hall. And when she's not bringing a splash of color to her hometown, she's focused on making the region a better place to visit, work and live through her financial support of the Saint Louis Zoo, Nine Network, The Salvation Army, Tower Grove Park, Support Dogs and the Conservation Federation of Missouri.

Betty Suggs
Betty Suggs, 79, is a career teacher who has taught elementary school, been a Head Start volunteer and trained future teachers at the college level. Today, she's focused on volunteerism, donating her time to the Silver Haired Legislature, Habitat for Humanity, the Northside Action Association and a handful of political campaigns. Suggs is also credited with having founded the Contemporary Art Museum, and was a docent for the St. Louis Art Museum, KETC Channel 9 and other organizations. Her diverse resume also earned her a spot in UMSL's Life Review Project, which highlights the lives of older adults and their unique stories.

Jane Towater
Jane Towater, 86, has a resume that is highlighted by her time as the youngest Council Executive Director of the Girl Scouts and her role as Associate National Director of the YWCA. Since retiring in 2000, Jane has become a St. Louis resident, and devotes much of her time and energy to the Junior League. As a long-time Junior League volunteer, Jane was co-founder of the League's Sustainer Council. In addition to her work with the Junior League, Jane also supports the Opera Theater, Barnes-Jewish Hospital, the St. Louis Art Museum, the St. Louis Symphony and the National Women's History Museum.

Sr M. Cordula Wekenborg, SSND
Sr. Cordula Wekenborg, 82, is a retired teacher and principal who now devotes her time to bringing comfort to the homeless. Since moving to the Sarah Community, a local non-profit continuum of care retirement community, Sr. Cordula has spearheaded an innovative program that turns plastic bags into sleeping mats for homeless men and women. Each week, she and other residents cut up the bags and crochet the plastic strips into large mats that are distributed through the St. Peter and Paul shelter. To date, 100 mats have been created as part of the initiative, while more than 100,000 bags have been kept out of local landfills.