Ageless Honorees - 2006

Walter Berberich
"For me, as a senior, there is no greater satisfaction than helping other people."
For Walter, each day brings the opportunity to help others through efforts that span public safety, health care and social services.

Jack Bodine
"The worst thing I can think of is doing nothing. I can't imagine retiring from life."
Quantify Jack's interests and what emerges is a music-loving bicyclist who is concerned about hunger, active in his church, and enthusiastically supports his alma mater.

Rosalie Brasch
"We all have something to contribute, to share with others. If whatever that is helps to enhance people's lives, so much the better."
Rosalie is a 37-year volunteer in the Reading is Fundamental program, visiting grade schools, reading to youngsters and providing them with books.

Jean Crowder
"I love people, love interacting with them, and trying to help. Besides, God didn't put us on earth just to take up space; we're supposed to be doing something productive."
Jean is the consummate volunteer, not only participating in volunteer activities, but also recruiting and mentoring other volunteers.

Constantino (Tino) DiFranco
"Being involved, keeping both your mind and body active are crucial. I plan to keep on going until the day I drop."
Tino owns three bowling centers in metro St. Louis where fund-raising bowlathons raise many thousands of dollars for charitable organizations, including the Cystic Fibrosis Foundation.

Ellen Dirnberger
"There is no benefit to being negative. You only wear yourself out. A positive attitude and helping others are what it's all about."
Ellen is the state coordinator for the AARP Grief and Loss program, providing guidance and motivation to the program's coordinators.

Carol Dowd
"There is a misconception about aging – that it is synonymous with illness and being infirm. That is no longer true. We are, in fact, living healthier, living longer and living better. Enjoy!"
Carol has been a Meals on Wheels volunteer for 30 years, delivering not only meals to seniors, but also companionship and friendship.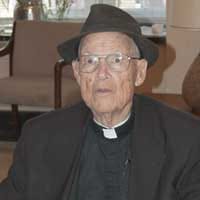 The Rev. William Barnaby Faherty, S.J.
"Despite my history background, I've always thought it's good to take up new interests, to be open to new things. It keeps you involved with life."
Father Faherty is a teacher, an author, historian, a Jesuit priest. Father Faherty is also an expert on and authored a book on the moon-landing Apollo space program.

Frankie Muse Freeman
"My prayer each day is: 'Help me, Lord, to be of service, to make a difference'."
Frankie is a "senior counselor," an honor bestowed by the Supreme Court of Missouri on attorneys who've practiced the law for 50-plus years.

Sonya (Sunny) Glassberg
"God didn't put us here just for ourselves. There are many ways we can give back to others and experience the joy produced by giving."
Sunny is a long-time contributor to Forest Park Forever and provided the means for creation of Turtle Park, and restoration of the historic World's Fair Pavilion.

Robert Grote, Jr.
"Seniors have experience and wisdom; young people have potential and enthusiasm. Bringing the two of them together so they can benefit from each other is a very good thing."
For nearly three decades he has been a major endowment fund benefactor and board member of the Mathews-Dickey Boys and Girls Club.

William Guerri
"It is good to be occupied – to work at something you enjoy. It's good for you and for the people in your life."
William is a much-honored lawyer his areas of judicial expertise include antitrust, securities, contracts, real estate, wills, trusts, estates, extensive corporate law and equally extensive pro bono work.

Dorothy Harris
"I would have a terrible time just sitting around waiting for my arteries to harden. My philosophy is 'get yourself out of the way; don't be absorbed with yourself,' because there is such joy in caring about others."
With a warm smile, a gentle hand, and a caring attitude, Dorothy makes so many things so much better.

Dale A. Knight
"As a Type A personality, I'm happiest when I have deadlines to meet, when I'm involved and dealing with challenges. It's the way to stay young and active."
Dale Knight is active in his church, serves as a Missouri Supreme Court Disciplinary Hearing Officer, and is a devoted Friend of the St. Louis Zoo.

Barbara Perry Lawton
"Environment is so important for all living things. And I have to say that the environment of a retirement community with its sense of neighborhood, friendships, and freedom from many responsibilities gives me the time and opportunity to be more involved with the things I enjoy."
Barbara is a horticulturist with a writer inside manipulating her green thumb. An award-winning author and naturalist, she has for decades shared her expertise with thousands of people.

Jack McKelvey
"I'm 76 and realize we all have aches and pains and other reasons for not being active or involved. But rather than dwelling on those reasons, it's better to simply ignore them."
This still-very-active insurance agent mentors young insurance professionals and serves on the Board of the Missouri Property Insurance Placement Facility which helps secure property insurance for difficult-to-insure clients.

Nancy Schuessler O'Brien
"I can't imagine just existing in my own little world. Being with other people and tying to help wherever we can is the best tonic, the best cure-all possible."
That tapping sound coming from Nancy's house is Nancy - practicing tap dancing. It's great exercise and taking tap lessons is something she had always wanted to do.

Irma Picker
"Seniors have a very important influence on other people. It seems to me the place to start is our own families by encouraging our children and grandchildren to grow up to be decent and responsible individuals."
Several times a year, Irma, a registered nurse, travels with SMART to Central America to assist with surgeries done for the region's impoverished people.

John Martin Ramsay, Ph.D.
"There are so many opportunities in life, particularly as we grow older. I couldn't possibly just sit and watch them all waste away."
John teaches English to senior immigrants for the University City Board of Education.

Vitilas (Veto) Reid
"There is so much potential in all of us, regardless of age. We just have to let that potential surface and then share it."
When Benjamin Franklin envisioned a U.S. Postal Service, he probably had someone like Veto in mind for postmaster. Veto Reid was a USPS employee for 52 years.

Genevieve (Gene) Rush
"I would encourage all seniors to volunteer if they are at all able. They have so much to share."
Anyone who has stopped by the second floor information desk at St. Luke's Hospital has probably met Gene.

Bennie Stevens
"There is great satisfaction in realizing the Lord still uses me as a senior. Although what we do is on a small scale, it's still so important to help others."
A Christian missionary, she has been conducting prison ministries for 35 years. She ministers to inmates at St. Louis' Justice Center and the county's medium security facility.

Murray Weidenbaum
"When I hit 70, I decided that it is very important to continue to be useful, but I also decided to no longer feel guilty about not doing those things that I don't enjoy."
Murray is no stranger to the company of presidents and publishers. He served as chair of President Ronald Reagan's Council of Economic Advisers and has written a dozen books and hundreds of articles on the economy.

James Whittico, M.D.
"I just can't seem to grasp the concept of retirement, particularly when there are so many things to be done, so many things to be accomplished."
Dr. Whittico still skillfully practices the healing arts.