Why We Give...Ruth Malvern
Ruth was the type of person who immediately makes you feel at ease. She was witty, intelligent, energetic, and had a deep sense of responsibility to give back to her community. It's something her father instilled in her from a very young age. He was a wonderful role model.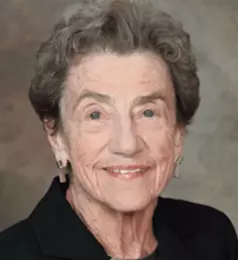 Ruth attended University City High School, graduated from Washington University with a degree in architectural design, and landed her first big job at Lammert's Furniture in downtown St. Louis. She was ahead of her time and blazed a trail for many women in her generation.
She married the love of her life, Donald, and together they traveled the world. She and Donald had one son, Michael John. Throughout their lives, the small yet mighty Malvern family always gave back to their community through their time, talent and treasures.
Ruth moved to our senior community The Willows in 2009. She truly enjoyed the people, and especially the food! This was her community for over 14 years and just like her father, and her family, she always wanted to give back. When St. Andrew's Charitable Foundation asked Ruth to support the residents at Brooking Park who have outlived their resources she said, "Of course I will. There are people in need and I am glad I can help." Ruth was an ardent contributor to St. Andrew's Charitable Foundation for many years. The residents of Brooking Park are blessed to have her support, as is the St. Andrew's Charitable Foundation. Ruth passed in February, 2023 and is dearly missed.