Why We Give...BSI Constructors
When someone says BSI Constructors, the first thought is construction, but the reality is, construction is only a part of what they do. It's how they do it and their code of ethics that makes a family business successful, driven and focused on quality.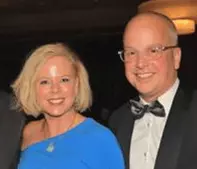 For over 20 years, Jim Shaughnessy, Executive Vice President and Chief Operating Officer at BSI Constructors has managed projects at St. Andrew's, ranging from chapels to retirement living apartments and villas. Each and every day, Jim and his crew bring their faith into their work. Jim explains, "What brings true meaning to our work and motivates us is knowing that what we are building has such a major positive impact on the lives of so many people." Learning the importance of giving back from his parents, Rosemary and Joseph Shaughnessy, he realized quickly that a career without a purpose is an empty career.
"We are grateful for our long-standing partnership with BSI. Together, we have created beautiful communities for seniors to live, laugh and enjoy life. But our relationship with BSI extends way beyond blueprints, deadlines and punch lists They have generously supported St. Andrew's Charitable Foundation for over 10 years so that seniors in need may remain living safely, independently and healthy in their own homes," says Mary Alice Ryan, President and CEO of St. Andrew's Resources for Seniors System.
Along with financial support, Jim's wife Karen served on the Board for St. Andrew's Charitable Foundation for many years and most recently served as Co-Chair of the highly successful 2018 Ageless Remarkable Saint Louisans Gala. Their ongoing support is truly appreciated.
"We like to support St. Andrew's because they treat people like we would like to be treated, I value how the Foundation is a good steward of our gifts and use the funds wisely to help low-income seniors navigate the challenges of aging," says Jim.
"We are thrilled to be so closely aligned with St. Andrew's mission, enhancing the quality of the life for our treasured elders," shared Jim.