National Nutrition Month
March 2, 2022
---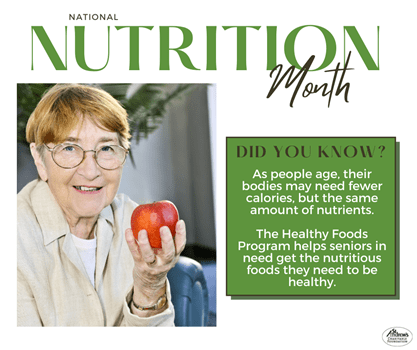 As people age, their bodies may need fewer calories, but the same amount of nutrients. Unfortunately, foods rich in nutrients without a lot of calories like fresh fruits and vegetables, seafood, and lean meats are typically more expensive than unhealthy processed food. Seniors unable to afford these groceries may struggle with their nutrition making them more susceptible to health problems like high blood pressure, heart disease, osteoporosis, and certain cancers.
St. Andrew's Charitable Foundation helps struggling seniors by providing seniors in our Healthy Foods Program with nutrient-rich groceries delivered bimonthly so they can live healthier lives.
To learn more about the Healthy Foods Program, visit:
https://www.stacf.org/how-we-help/healthy-foods-program/
"Nutrition For Older Adults." MedlinePlus, U.S. National Library of Medicine, 22 Nov. 2021,
https://medlineplus.gov/nutritionforolderadults.html#:~:text=Good%20nutrition%20is%20important%2C%20no,2%20diabetes%2C%20and%20certain%20cancers.