Congratulations Heather Spindler for being a Lift Up St. Louis Honoree!
September 28, 2020
---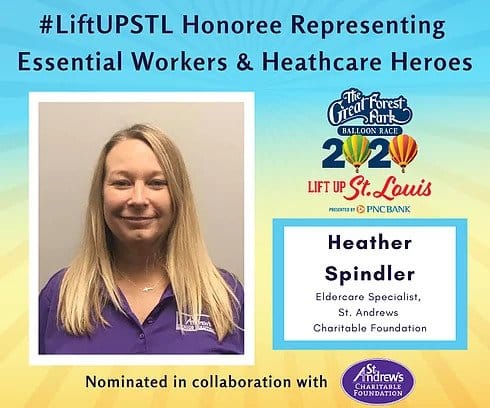 During September, The Great Forest Park Balloon Race flew hot air balloons across the St. Louis skies in tribute to essential workers, educators, healthcare heroes and those standing up for change. We are so proud that Heather Spindler with St. Andrew's Senior Solutions was one of the honorees! Congrats, Heather!
Meet Heather:
Heather is an Elder Care Specialist/Geriatric Care Manager with a Master's Degree in Social Work from the University of Missouri-Columbia. She has practiced Social Work for 20 years working with older adults and their families. Over her past 15 years at St. Andrew's Senior Solutions, she has impacted over 27,000 seniors. Heather is a strong advocate for seniors and works diligently to provide them with the resources they need to successfully Age in Place.
She is driven by her personal values to be compassionate, patient and caring. When she started college and her beloved grandfather had a stroke, she saw how difficult it was for him to get the help he needed and decided that helping seniors was her calling.
How Heather Lifts Up St. Louis:
Heather positively impacts low-income seniors that are often forgotten, vulnerable and underserved. Since the start of the pandemic, she has made hundreds of health and wellness calls to seniors, making sure their needs are being met and explaining what precautions to take to stay healthy and well.
She has taken over the St. Andrew's free grocery order and delivery program and goes above and beyond to find the basic items seniors desperately need. Daily she hears from seniors, who are afraid to go out and possibly be exposed to the virus and see the rising cost of groceries, how essential this is for them and how grateful they are that she cares for them. For many, Heather may be the only human contact they have for days. She gives them comfort, lends an ear and makes sure that we provide for them the services they need.
A Message from Heather's Nominators:
"I do not know what we would do without Heather. She is totally dedicated to helping our seniors and their families. She helps them through the maze of rules, regulations, choices and decisions. She is their Rock". Mary Alice Ryan, President and CEO St. Andrew's Resources for Seniors
"Heather is a Leader in the Senior Care Industry and the St. Andrew's Senior Solutions Team. She is one of the most compassionate and calming health care professionals I know. She goes above and beyond for our Seniors and their Family Caregivers EVERY DAY. She embodies our mission to enable elders and their caregivers through choices and options to Worry Less®." Melissia Robinson, Executive Director St. Andrew's Senior Solutions.
See Heather's Honoree profile with Lift Up for St. Louis at https://www.liftupstl.com/honorees.